Virtuoso wrote:
Posted: 15 Sep 2020, 08:26 pm
Hi
I'm a player from Major Command. I'm pretty unpopular there (honor score under 30%, which I don't understand as I play according to the rules). As such, though I pitched this map idea to them but it has not received a_single_reply.
My map concept is as follows: Fully symmetrical about every axis, which will allow for the option of a "fixed" drop start, whereby every player has the exact same starting position as every other player. 144 is divisible by 2, 3, 4, 6, 8, 9, 12, 16, 18, 24, which allows for a large number of equal starting positions for multiple multiplayer games. Continents will be 4 territories each to allow the symmetricalness across all axes
Thus, this map is intended to be as geographically neutral everywhere on the board as possible,, so that the only variables are the (1) dice and (2) gameplay. If played in the "neutral" dice format (they call it fixed force at MC), where attacks and kills occur in a 1-to-1 ratio, it would essentially turn this game into checkers with a Risk gameplay.
I am not aware of any map that exists which would allow this specific gameplay. Each territory is exactly equivalent in strength and weakness to every other territory.
The edge territories (inner and outer edges) make up a continent. Orange and purple on the map.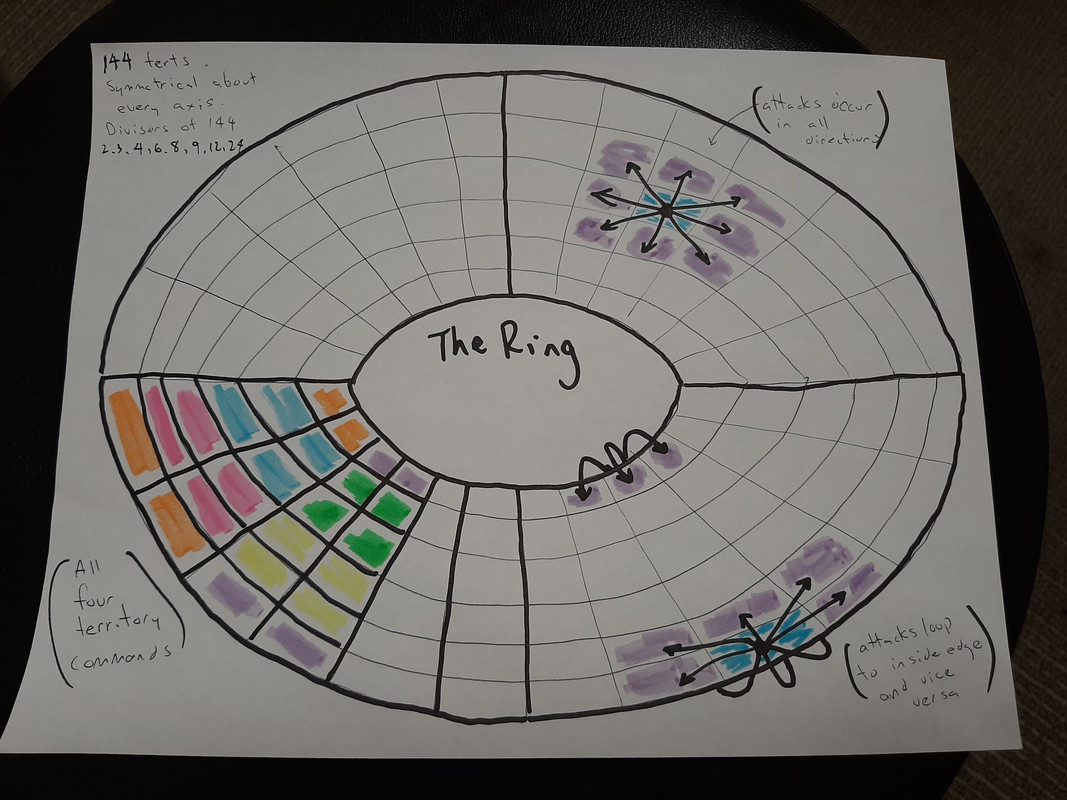 "Life is like a piano; the white keys represent happiness and the black show sadness. But as you go through life's journey, remember that the black keys also create music." - Author unknown